Top-Rated Gutter & Leaf Guards Kenneth City, FL
Protect your home and save time and money on maintenance by installing our high-quality gutter guards – get a free quote today!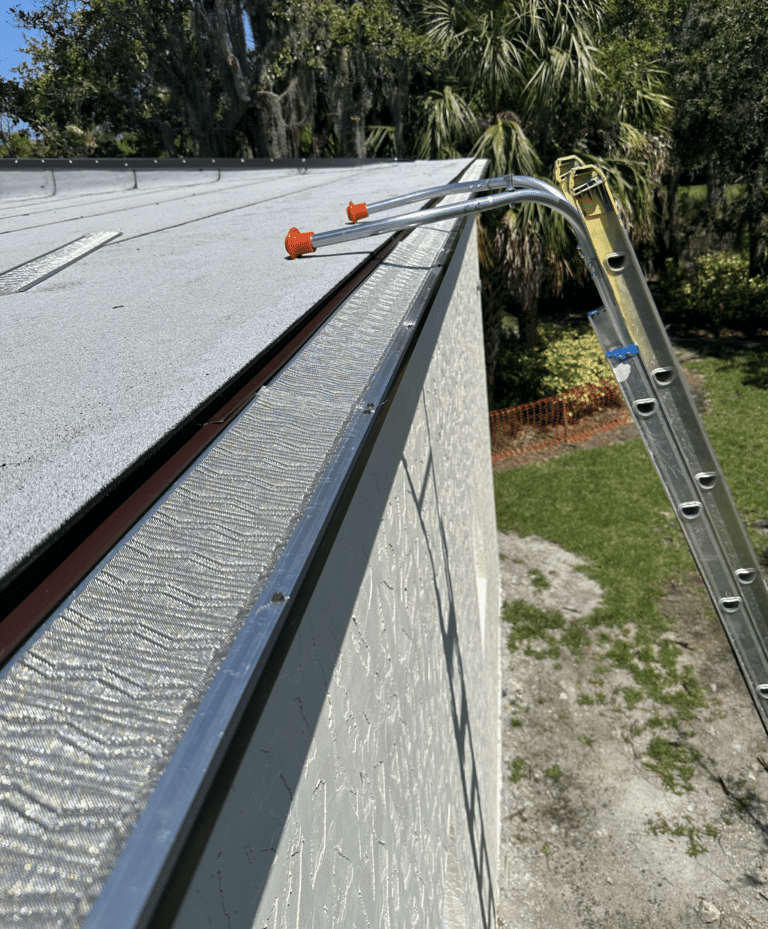 Leaf Guard Installation for Optimal Gutter Protection
Greater Gutters has got you covered
As the autumn leaves fall and the foliage blooms, gutters often become susceptible to clogging, leading to improper water flow and potential overflow. Without the protection of leaf guards in Kenneth City FL, leaves, twigs, and other debris can accumulate, causing blockages that hinder the efficient drainage of rainwater. This accumulation may create pools of water near the foundation, leading to soil erosion and foundation cracks, compromising the structural integrity of your home. 
Residential leaf guards offer a reliable solution to this problem, preventing leaves and debris from entering your gutters while allowing water to flow freely. With our leaf guards in Kenneth City, FL, you can bid farewell to the burdensome task of gutter cleaning and ensure your gutters remain clear and functional throughout the seasons. Embracing leaf guard installation is not only an investment in your home's protection but also a testament to responsible homeownership in Kenneth City.
Let Greater Gutters be your trusted partner in preserving the beauty and integrity of your Kenneth City residence. Our expert team is dedicated to providing top-tier gutter protection solutions that perfectly fit your home's needs.
Protect Your Home with Gutter Leaf Guards in Kenneth City, FL: The Ultimate Solution for Seamless Management
At Greater Gutters, we understand that every Kenneth City home is unique, and one-size-fits-all solutions won't suffice. That's why we offer customized gutter leaf guards in Kenneth City, FL tailored to fit your specific gutter system and home's architecture. Our expert team will conduct a thorough assessment of your gutters, taking into account factors such as roofline, tree coverage, and local weather patterns.
Based on our assessment, we will recommend the most suitable leaf guard gutter protection system for your home. Whether you need a micro-mesh system to block small debris or a solid surface option to prevent larger leaves from entering, we have a wide range of leaf guard styles and materials to choose from.
Our gutter leaf guards in Kenneth City, FL are crafted from high-quality materials, including aluminum, stainless steel, and copper, to ensure durability and longevity. With our meticulous installation process, we guarantee a seamless integration that complements your home's aesthetics while delivering superior gutter protection.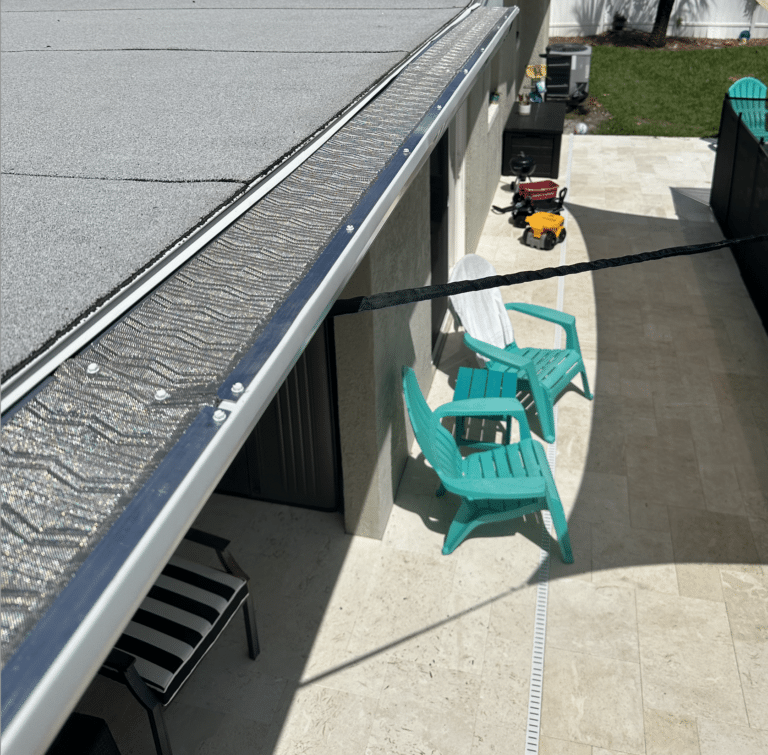 your Satisfaction guaranteed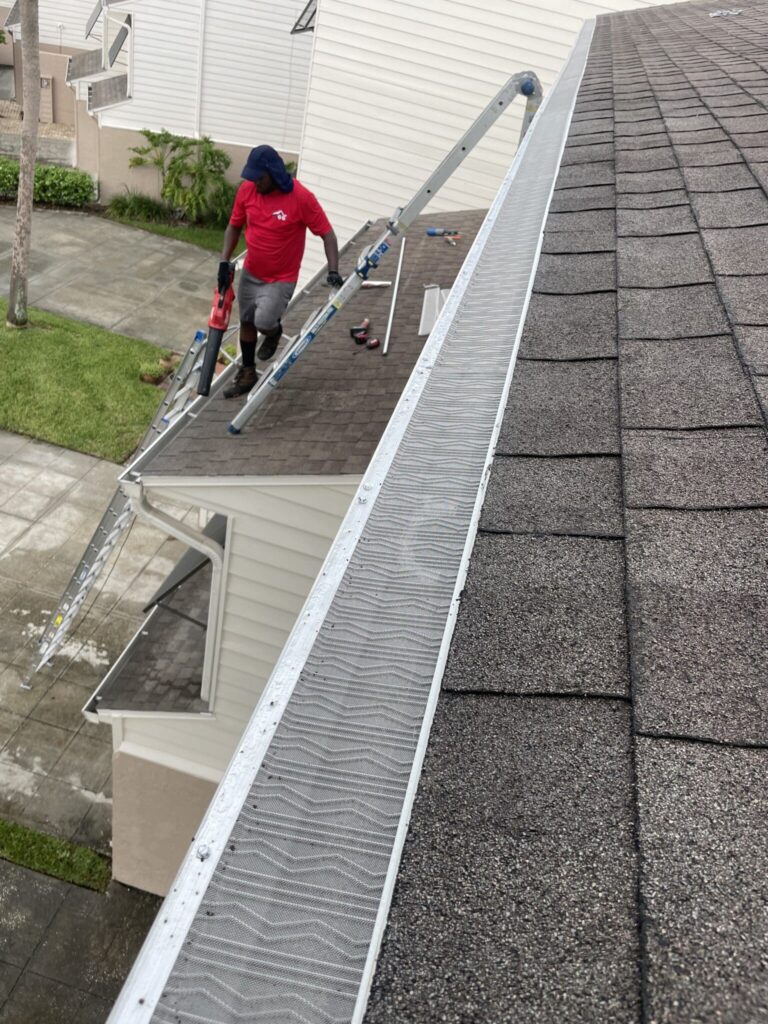 Trusted Gutter Guards Kenneth City, FL
Greater Gutters is all you need
Investing in leaf guard installation brings a host of benefits that enhance the functionality and longevity of your gutters. One of the primary advantages is unmatched protection against leaves, twigs, and debris. Leaf guards act as a reliable barrier, preventing these elements from clogging your gutters and allowing rainwater to flow freely. Keeping your gutters clear with leaf guard protection eliminates the need for frequent and tedious cleaning, saving you time and effort.
The prevention of clogs and debris accumulation also contributes to the overall maintenance ease of your gutter system. With our gutter leaf guards in Kenneth City, FL  you can reduce the risk of gutter-related issues, such as water damage, mold growth, and pest infestations. This not only preserves the aesthetics of your Kenneth City home but also protects its structural integrity.
Choose Greater Gutters for the Best Gutter Guards in Kenneth City, FL
Greater Gutters is all you need
With our wide selection of leaf guard styles and materials, we can find the perfect solution to meet your home's needs and budget. By investing in leaf guard installation, you're protecting your gutters and preserving the beauty and value of your Kenneth City residence. 
Experience the Greater Gutters difference in Kenneth City, FL, and schedule your complimentary consultation today. Let us elevate your home with our efficient leaf guard installation service. Trust us to safeguard your gutters and protect your investment, ensuring your Kenneth City home remains in its best shape for years to come!